Here are some reasons you can trust Monarch Mountain to handle your taxidermy needs
Quality
We offer the highest quality in the taxidermy industry. Your mount will receive the best of the best when it comes to tanning, forms, epoxies, materials, etc. We believe our product will last a lifetime. No money is spared to make sure your animal gets the best. Yes, we cost a little more than the average taxidermist, but when you enjoy your trophy for a long time with no issues at all, you will understand the cost difference. Come visit us at the shop and let us walk you through why our products are better and why you want your animal done with them.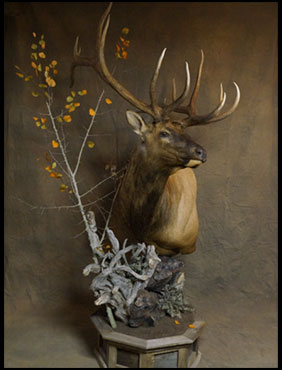 Experience
Experience is a HUGE factor when talking about taxidermy. We have a staff that is highly skilled in their specialized area of taxidermy. The Monarch Team has set the bar high and many are trying to catch up. Please understand there is a big gap between an experienced taxidermist and those who are just dabbling or just entering the profession. We are serious about our work and every animal is very important to us. Anatomy and realism are crucial to making a lifelike animal. We as a staff, have over 40 years experience in the trade. I personally have been operating Monarch Mountain for 17 years now. Please trust me and the staff to handle your trophy with the upmost care and respect. I will even offer advice to who I would use to taxidermy animals in our area if you are interested. It is very important to me regardless if I taxi your animal or not, that you will get a high quality product.
Honest
No beating around the bush here. When we say something we mean it. We will cover every possible issue or concern you may have. Many people have come and continue to come to Monarch Mountain because they trust us and they know there will never be any lies told here. My grandpa taught me the most important quality a man has is his integrity. I strive with my business and my life to be the best at what I do. It means a lot to me and everyone who works at Monarch that we have the highest standards and ethics in the business.
Tanning
When we receive your animal you can be assured it stays in our facility. We have an in house tannery and we tan you animals with the absolute best chemicals and oils. No need to worry when your animal will get back or if it will get back from a tannery. No issues with receiving someone else's cape or mix ups. I at all times know where your animal is and what is being done with it. It is important to me that all steps necessary have been taken to insure a quality tan that will last forever. It is important to you that your animal is the one you get back, and that is why we tan your skins!!!!

The Look (Difference)
The number one reason people come and return to Monarch Mountain is what we call the look!! A Monarch Mountain Mount truly is different than any other. We believe that detail and realism really make the difference. Our mounts have superb detail!!! The realism our mounts offer make a difference that you will notice immediately. The ears and eyes tell a story through artistic design. We do not believe in a normal boxy mount. We want your animal to tell a story when you look at it. Every mount is significantly different. Hair patterns are immaculate and properly placed to make your mount shine. The shampoos and conditioners used on your mount are created using proper PH formulas to make sure your animal's skin and hair are flawless. We alter every form!!!!!! Yes every animal gets special detail and alterations to make sure no one will ever have a mount like yours. There is no standard mount at Monarch Mountain. If you are looking for a mount that stands out, than we are the taxidermist for you.

Time (How Long)
The magic question in taxidermy is how long before I get my animal back? How much time is too quick? How much time is too long? I believe at Monarch Mountain we answer those questions perfectly. We are not a shop that is going to rush anything. We do not believe in slamming and cramming animals together to get your animal back to you quickly. So the solution is quality, but also a reasonable turn-around time. Turn-around time is dependent on species and other factors but is typically around one year. We will not rush quality, and I will not take in more animals that will compromise our time frame.